imuno® THE CREAM
- for a Better Flow
For external use only. Store in a cool, dry place (Refrigerate for long term storage). Keep out of direct sunlight.


Use the supplied spatula to remove some imuno® CREAM from the jar.


Apply to skin, where required, and massage with finger until absorbed.


imuno® THE CREAM contains all the benefits of imuno® THE SOLUTION.


imuno® THE CREAM's active ingredients are nanosized for deep delivery through the skin.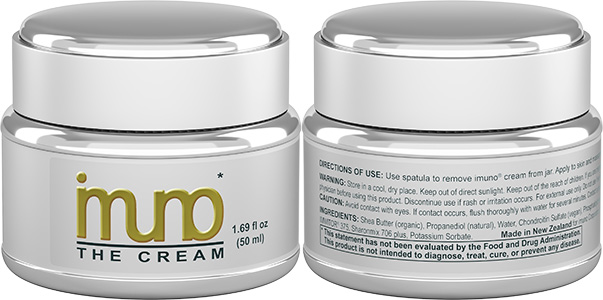 Superior Immune Support (BE WELL).


Superior Endocannabinoid Receptor Support (FEEL WELL).


Superior Mitochondrial Support (HAVE ENERGY).


Superior Lymphatic Drainage Support (A BETTER FLOW).


imuno® is 100+ times more potent than pure GcMAF
---
imuno® is designed by Molecular Biologist, Dr Marco Ruggiero, MD. PhD. Author of peer-reviewed scientific papers on immunotherapy and quantum biology.
imuno® is produced under licence in a pharmaceutical facility which is audited by Medsafe, a division of the Ministry of Health of New Zealand, to both GMP and Pharmacy Standards NZ.
imuno® is the elegant solution. It is the revolutionary supra-molecular structure that reproduces the self-assembly of cell components. This delivers the combined molecules, at the same time, at the required dose, to their biologic targets, and produces powerful support. Also, the manufacturing process for imuno® is meticulous and time-consuming, and it is not technically possible to get the same result by simply mixing the active ingredients together since the procedure follows a proprietary algorithm based on biologic negentropy.
Certified Organic Shea Butter - Fair Trade.
Natural Propanediol - from corn sugar fermentation.
Water - ultra pure.
Chondroitin Sulfate - vegan, from microbial fermentation.
Phosphatidylcholine - ultra pure.
Vitamin D3 (cholecalciferol).
IMWITOR® 375 - sunflower based emulsifier.
Sharonmix 706 plus - preservative with Vitamin E.
Potassium Sorbate - food preservative.
---
Supplied in a silver decorated white glass jar and sealed inside a protective cardboard box (tamper evident).